Skip to Main Content
Research Report
Reshaping the City

Zoning for a More Equitable, Resilient, and Sustainable Future
Reshaping the City shares promising insights and examples of zoning updates from across the United States that have been crafted to promote healthy mobility, support increased housing affordability, build more resilient places, and accelerate climate action—among a host of other goals.

The application of traditional zoning can be directly attributed to many of today's pressing issues, including structural inequities and increased greenhouse gas emissions. Updating zoning is necessary to support quality of life in communities throughout the United States.

Real estate developers are essential constituents and partners in efforts to enact zoning updates, which can make development easier to do and can broaden the spectrum of those that can participate in the development market, such as small-scale developers and those from underserved backgrounds.

Updates may also enable a wider range of development typologies, potentially by allowing or incentivizing higher density or infill development—thereby supporting sustainability, walkability, and other key goals. Updating zoning provides multiple benefits for business, people, and the planet, and the real estate community can provide valuable insights that make reforms more successful.

The report:
Highlights connections among traditional zoning and land use challenges cities and towns are grappling with today;
Makes the case for updating zoning policies to support health, social equity, and climate action and resilience—with a focus on aligning zoning with community priorities and public- and private-sector development objectives; and
Shares promising examples of zoning policy updates from across the United States.
Learn more about how zoning updates can streamline the development process: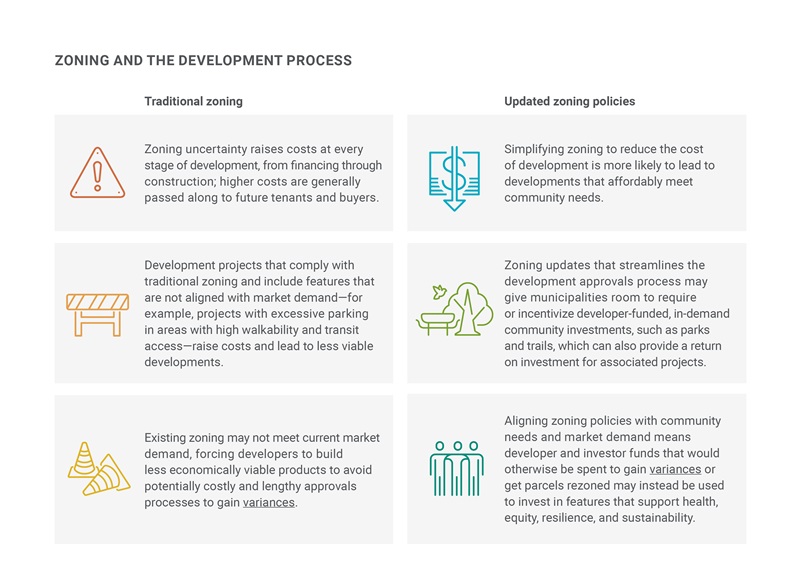 Learn more about zoning techniques and innovative approaches:
Certain zoning techniques are increasingly being used to advance policy updates with the potential to promote a healthier, greener, and more equitable and resilient future. When aligned with complementary city policies—like building and energy codes—zoning reforms can promote public- and private-sector investment that advances key goals.

Goals of zoning code updates include:
Increasing production of a variety of housing types, leading to increases in affordable and attainable housing;
Lowering the cost of housing development by reducing or eliminating policy barriers;
Promoting low-carbon building principles and certification standards (e.g., Leadership in Energy and Environmental Design, known as LEED; Building Research Establishment Environmental Assessment Method, known as BREEAM; Passive House, and others);
Increasing permeable surfaces to reduce flooding and adding shade and reflective surfaces to address the urban heat island effect, thereby enhancing climate resilience;
Encouraging mode shift away from driving and car ownership, toward transit, biking, and walking by supporting the development of compact, mixed-use communities;
Integrating transit and real estate development, and building more housing within walking distance of major transit hubs;
Providing parks and open space and viewing them as critical infrastructure;
Prioritizing tree preservation and protection;
Including food retailers with fresh produce in development projects;
Building community gardens and farms;
Adding community facilities and promoting community-serving retail;
Creating walking and biking connections to transit; and
Supporting water efficiency.
The types of zoning approaches and policy examples covered in the report include:
Comprehensive overhauls: Creation of new zoning policies to replace previous codes

Buffalo, NY:

Promoting walkability and eliminating minimum parking requirements through comprehensive overhaul

Baltimore, MD:

Promoting healthier development through comprehensive overhaul

Stamford, CT:

Strengthening and encouraging greener buildings through a comprehensive overhaul

Norfolk, VA:

Comprehensively addressing community vulnerabilities through zoning overhaul

By-right zoning: Allows projects that comply with certain zoning standards to obtain approvals and building permits through relatively simple administrative processes

Minneapolis, MN:

Allowing increased residential density by right by eliminating single-family zoning

Denver, CO:

Allowing lower parking ratios by right for affordable housing

Boston, MA:

Adopting net zero carbon standards by right through strengthening low-carbon building requirements

Summit County, CO:

Minimizing losses from wildfire damage

Overlays: Special districts placed over existing zones that include provisions in addition to those already present

Indianapolis, IN:

Promoting healthier, more equitable development by zoning overlay

Northampton, MA:

Creating a sustainable growth district through overlay zoning

Stonington, CT:

Using overlays to achieve scalable flood hazard mitigation

Floating zones: Districts that delineate conditions that must be met before the area is approved for a given set of zoning rules

Cambridge, MA:

Facilitating green, resilient, and flexible development

James City County, VA:

Creating a planned unit development for conservation and community resilience

Zoning incentives: Tool to make it more attractive or financially feasible for developers to provide certain public benefits by offering incentives that offset the cost of providing such features

New York City, NY:

Promoting healthy food access

Arlington County, VA:

Advancing carbon neutrality through density bonuses
Webinar
Learn from cross-sector experts about opportunities related to updating zoning in communities across the United States.